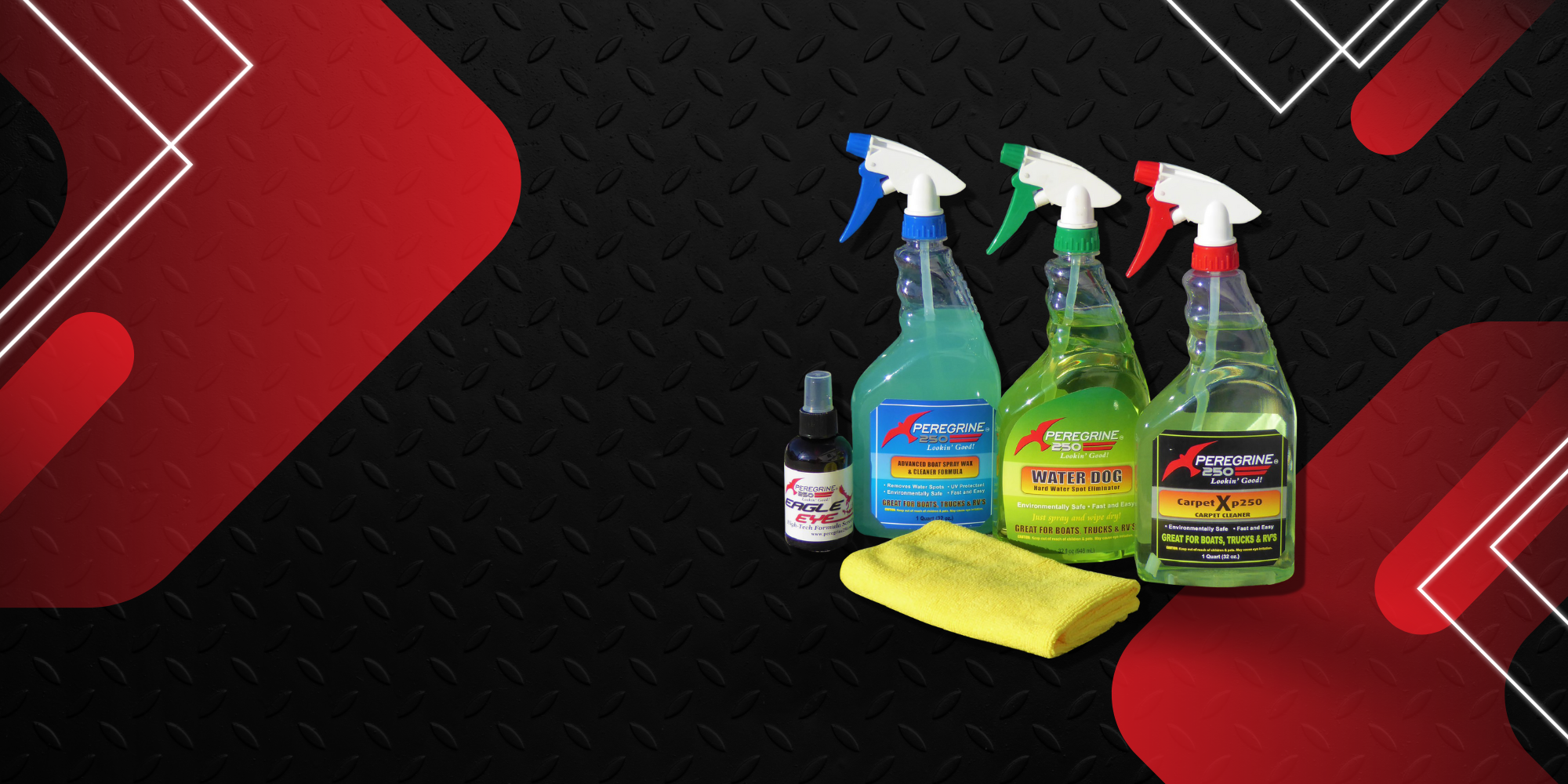 KEEP YOUR BOAT

LOOKIN' GOOD! 
Carpet X: Carpet Cleaner
POWERFUL CARPET CLEANER TO GET ALL YOUR STAINS REMOVED

Specially formulated to clean spots and stains from your boat, truck, and RV carpet, the Peregrine 250 Carpet X p250 Carpet Cleaner provides a fast and easy way to keep your vehicle in tip-top shape.
CHECK OUT CARPET X P250
Water Dog: Hard Water Spot Eliminator
Highly Effective Water Spot Eliminator for Controlling Zebra and Quagga Mussels

Peregrine 250 Water Dog Hard Water Spot Eliminator is designed to easily remove hard water spots from your boat, outboard motor, and vehicle, and it's also great for cleaning glass windows and chrome.
CHECK OUT Water Dog
Wash N Wax: Advanced Boat Wax
The All-In-One Boat Cleaner To Rejuvenate The Gloss On Your Boat's Finish

Peregrine 250 Advanced Boat Spray & Wax Cleaner Formula was created to be used every time you get off the water.
CHECK OUT P250 Wash N Wax
Octo: Rubber Protectant
Bring Life Back to Your Vinyl and Plastics

Peregrine 250 Octo Rubber Protectant is here to help keep your boat looking its best. This environmentally friendly, biodegradable formula will pump life back into weather-worn seats, consoles, rub rails, and trim.
CHECK OUT Octo Rubber Protectant
Eagle Eye: Screen Cleaner
Top-Of-The-Line Biodegradable Screen Cleaner

Formulated specifically to clean display screens, the Peregrine 250 Eagle Eye Screen Cleaner will keep your fish-finder, GPS display, and laptops crystal clear.
CHECK OUT Eagle Eye Screen Cleaner
Raptor X-Treme: Boat Wax
Non-Toxic Formula To Give Your Boat An Amazing Shine

The Peregrine 250 Raptor Xtreme Boat Wax is your solution! This advanced, environmentally safe formula will remove water spots and maintain the shine of your boat
CHECK OUT Raptor X-Treme Wax
quick & easy to use
Spray. Wipe. And enjoy the shine. That's how easy it is to use our porducts for your boat and other vehicles.
Eco-friendly
Keeping you and the environment safe with our biodegrable and environmentally friendly porducts.
Unique formula
Made to leave no residue or discoloration on your boat. Keeping it clean and and residue free so you can focus on your fishing.
★★★★★

Good stuff.   It works well on black surfaces, which has always been tough to get rid off!

James

Cadiz, KY
★★★★★

Removes scum lines and water spots easily. My outboard hood has never looked better!

Jeff

Potosi, WI
★★★★★

I'm impressed, took off some pretty heavy water spots from my outboard with very little effort.

Isaac

Hesperia, CA
★★★★★

Great stuff for quick cleaning your boat after a day of fishing, does a good job of removing dirt from the hull and motor.  Wipes off easily and leaves a nice shine.

Quillback

Bella Vista, AR
★★★★★

I have used this on my 2000 Champion and everyone swears its a new boat. This makes my boat shine like new.i ts the best boat spray ive EVER used.

Bill

Stevenson Ranch
About Us
Over 16 years of creating high qulity and premium boat care products for you.
Learn More
Tackle Warehouse
The retailer with guaranteed lowest prices on bass fishing tackle from every top brand.
Shop Now